The Outer Melbourne Wineries areas covers some of Victoria's most well-known winery destinations!
There are many great attractions to visit, including top-class restaurants showcasing local produce, relaxed cafés with stunning views, regional and coastal scenic features and numerous cellar doors, all within a one-hour drive from Melbourne.
YARRA VALLEY
Only an hour's drive from Melbourne, the Yarra Valley is the oldest wine-producing regions in Victoria and dates back to 1838. Best known for its chardonnay and pinot noir varieties, the region offers a diverse range of wines due to its warmer valley wineries and cooler hilltop vineyards. Currently hosting a total of 3800 hectares under vine, the Yarra Valley has an abundance of cellar doors that offer wine¬ tastings and regional local produce.
MORNINGTON PENINSULA
Sitting high above the bustling oceanside that borders this cool-climate wine region, the Mornington Peninsula is surrounded by the Bass Strait, Port Philip and Western Port Bay and is one of Australia's only maritime wine producing areas. Best represented by its constantly outstanding pinot noir wines, this section of Victoria has almost 50 per cent of its vineyards reserved to producing that one variety. More than just great wine, the Mornington Peninsula also offers an abundance of sites and attractions, including picturesque beaches, world-class golf courses, and relaxing hot springs, as well as many more.
Situated in the lush open woodlands by the coastline of the glorious Mornington Peninsula, Dromana Estate is immersed in an abundance of wildlife and native flora.
Main Ridge Estate was the first licensed winery on the Mornington Peninsula, and has built a reputation for producing exquisite pinot noir and chardonnay from estate-grown fruit.
Ocean Eight is a family-owned vineyard and winery. Winemaker Michael Aylward went into business with his parents in 2004, with a focus on making the highest-quality pinot noir and chardonnay on the Mornington Peninsula.
Red Hill Estate is an iconic multi-award-winning Mornington Peninsula wine producer that is not only renowned for its fine wines, but also for the superb panoramic views of Westernport Bay that can be enjoyed on a visit to the cellar door.
Established in 1994 by David and Marilyn Jones, Wynnton Ridge Vineyard is a family-owned winery that is situated on the 6-hectare grounds of an old dairy farm, which served the Red Hill and Shoreham region more than a century ago.
GEELONG
Only an hour drive from Melbourne CBD, Geelong plays host to family-friendly activities, beautiful beaches and outstanding cool-climate wines. Showcasing distinctive maritime flavours indicative of the Bellarine Peninsula, the region's pinot noir has become renowned throughout the world. The area is also known for producing outstanding varietals of shiraz and pinot noir, and has even made a name for itself in recent years for its premium sparkling reds. With more than 60 cellar doors open almost any day of the year, you can be assured you're in for an amazing experience at the wineries in the Geelong region.
"Austin's Wines approaches wine – and winemaking – with an innovative, contemporary and authentic ...
An essential destination of the Bellarine, Jack Rabbit Vineyard's restaurant, winery and cellar door offers visitors the ultimate daytrip when only a brilliant regional experience will do.
A dynamic force on the Bellarine Peninsula, this vineyard's mantra is "Life is short, celebrate well!"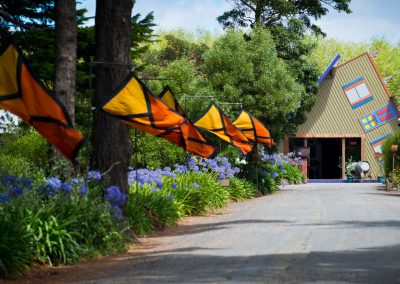 Oakdene is a family-owned vineyard situated in the heart of the Bellarine Peninsula on stunning coastal farmland, where the maritime climate offers excellent conditions for producing low yields of high-quality fruit.
Established in 1982, Scotchmans Hill is located in the heart of the Bellarine Peninsula. A producer of premium, cool maritime-climate wines, Scotchmans Hill has been a leading local winery for more than thirty years and is rated among James Halliday's top 100 Australian wineries.
MACEDON RANGES
Home to historic Daylesford and the historic Castlemaine, the Macedon Ranges is one of the most beautiful regions of Victoria. The wineries in this area sit at a chilly 300 to 800 metres above sea level, making it the coldest grape-growing area in mainland Australia, which delivers the peppery shiraz that the world has come to adore. The area also focuses on its Italian varietals, such as tempranillo and gamay, as well as the rare lagrein. Established since 1840, the Macedon Ranges now plays host to more than 40 vineyards that collectively produce 1000 tonnes of must and juice each year.
In 1978, Bob Nixon had a vision to plant grapes in the cool-climate Macedon Ranges, and to make wines of exceptional character.
Established in 1970 by fourth generation grazier Gordon Knight and wife Heather Knight, Granite Hills is one of Australia's highest and most picturesque vineyards.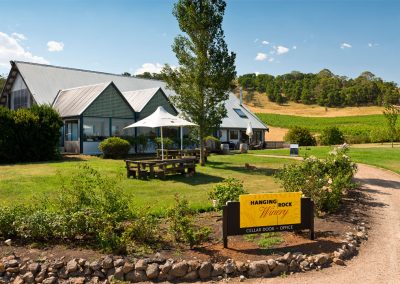 Hanging Rock Winery was established in 1983 and is located in Victoria's coolest grape-growing region, the Macedon Ranges, just an easy one hour drive from Melbourne.
Located just one hour away from Melbourne in the cool-climate village of Hesket is the humble Hesket Estate.
Migrating to Australia at twenty-five years old, Mario Toniolo channelled his love and passion for wine and food to establish Morning Sun Vineyard.
Established in 1974 by Graeme Leith and Sue McKinnon, Passing Clouds is a family-run winery in central Victoria.
SUNBURY
Just outside of Melbourne lies the historic Sunbury region. Featuring the world's greatest volcanic plain, the area shows great variety in soil conditions from sandy-grey loam over gritty, yellow clay, to red volcanic loam and black basalt clay. This unique terroir provides outstanding shiraz and chardonnay varietals, while the cool, dry climate provides wines of great flavour and length. With an abundance of award-winning, family-owned wineries, Sunbury is sure to offer you a unique and personalised wine experience.
The stunning vineyards and rolling grasslands of Russo Estate first opened in 2016, after founder Joe Russo and his family spent many hardworking years farming the land and establishing the cellar door and restaurant.