Situated in the lush open woodlands by the coastline of the glorious Mornington Peninsula, Dromana Estate is immersed in an abundance of wildlife and native flora. To protect and conserve the beautiful surrounding ecosystems that Dromana Estate calls home, sustainability is at the forefront of this vineyard's design. All water is recycled and treated onsite to achieve a drinkable standard and is reused in the vineyard, restaurant and during wine production. The restaurant utilises evacuated tube hot water systems, which reduce the electricity consumption and drastically decrease water waste whilst protecting nearby waterways from untreated water.
As pioneers in sustainable wine and food production, all energy is sourced sustainably through a 99kW solar panel system that supplies the entire operation. Dromana Estate is always working hard to reduce its environmental impact by keeping the use of fungicides and preservatives to the absolute minimum and using organic options wherever possible. The restaurant offers a delicious range of locally sourced and vegan friendly food. In addition to this, from the 2019 vintages onwards, no animal products have been used in any stages of wine production.
It's Dromana Estate's belief that exceptional wines rise from excellent grapes and vineyard management, and this philosophy has earned the estate a plethora of awards in the past year, including viognier of the year at the 2020 Melbourne International Wine Show and an array of gold, silver and bronze medals via the 2020 USA Wine Rating.
The chief winemaker, Peter Bauer, has worked at Dromana Estate for more than a decade. His wealth of knowledge and innovative winemaking skills has garnered Dromana Estate's reputation for excellent wines that truly reflect the cool, ocean-swept climate from which they are grown. Producing nineteen wines, across seven varietals and three labels, all Dromana Estate's vintages are grown on the estate and hand harvested to ensure only the highest quality fruit is used.
Following its grand opening in 2020, Dromana Estate's century-old stables have been restored as a charming, rustic venue that can accommodate up to 200 guests for your wedding or big event. For smaller functions, the estate's heritage-listed homestead boasts an open fireplace, manicured gardens and weeping elm – the perfect intimate retreat to share with friends or family.
⇐ 2018 Dromana Estate Syrah
Dominant and commanding nose with red cranberry and blackberry nestled between clove, nutmeg and sage. The palate delivers what the nose promises; deep and concentrated flavours well complemented by oak and tannin. The estate's signature wine.
⇐ 2019 Mornington Estate Viognier
The bouquet is expressive and spritely like an upcoming summer – pomegranate, sweet florals and a field full of strawberries. Juicy yet elegant, this is a supremely well poised dry rosé, perfect to enjoy with your best friend in the sunshine.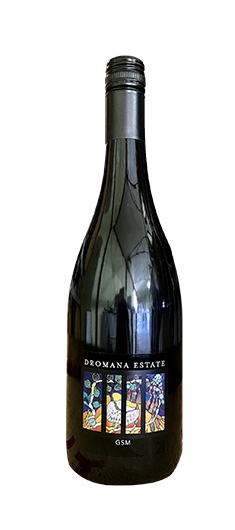 ⇐ 2017 Dromana Estate GSM

Powerful, yet charming and persuasive with well-defined red plums and black cherries. A structured and powerful palate with fantastic oak integration completes a new-world pinot noir showcasing the denser palate and flair of its terroir.
⇐ 2017 Tuerong Park Sauvignon Blanc Botrytis

Made to a 'Méthode Champenoise' style by fermenting in the bottle and then allowing the wine to mature on its lees for thirty-six months. This process has created a wine that really sparkles. Lemon curd and burnt orange peel are swept along by spice and brioche lees complexity. Wonderfully textured with a persistent fine bead, this wine is a real showstopper.
VISITOR'S GUIDE
Getting There
555 Old Moorooduc Road,
Tuerong
Contact Details
Tel: (03) 5974 4400
Email: cellardoor@dromanaestate.com.au
Website: www.dromanaestate.com.au
Cellar Door
Open 11:00am–5:00pm Wednesday to Sunday
Restaurant
Australian cuisine made from local produce
Vegan friendly options available
Open Friday to Sunday, 12:00pm – 4:00pm
Weddings & Functions
Up to 200 guests standing or 140 seated
Accommodation
Glamping can be arranged in conjunction with a local glamping company

Additional Features
No