Hidden down a quiet country lane, Mantons Creek Estate is a secret gem not to be missed. With approximately 18-acres under vine, the property produces the highest quality maritime, cool-climate wines. The winery has a sustainable viticulture approach, producing small amounts of super-premium fruit. Mantons Creek Estate's varieties include pinot noir, pinot gris, pinot grigio, sauvignon blanc, chardonnay, muscat, rosé, gewürztraminer, tempranillo and shiraz.
Mantons Creek Estate invites you to sample its award-winning wines within a magnificent setting in one of Australia's premier wine regions. The rich fertile soils of the Mornington Peninsula combined with cool-maritime breezes contribute to the unique character of the wine grapes.
Away from the crowds, you'll find Mantons Creek Estate's cellar door is the perfect spot to escape the city and enjoy the best the region has to offer. Take in the picturesque vineyard views with a glass or two and enjoy the relaxed and friendly service. To complete the experience, dine in Manton Creek Estate's Mediterranean-inspired restaurant, Quattro.
When you really want to get away from it all, Mantons Creek Estate's four exclusive suites offer you the ultimate in luxury. Each room is well-appointed and designed to provide you with a memorable stay.
Located only a short drive from Melbourne, once at Mantons Creek Estate, you'll feel you are a thousand miles away.
⇐ 2016 Trio Dessert Wine
A blend of muscat, pinot grigio and Gewürztraminer from the Cellar Door Block, this rich dessert wine shows characters of orange blossom, honey, musk, and spiced nuts. A perfect finish to the perfect meal.
⇐ 2019 Chardonnay
This chardonnay is elegant, full-flavoured and full-bodied, the perfect illustration of how well-suited chardonnay is to the estate's cool, slow-ripening location. With definite characters of peach, nectarine and floral fruit aromas, this wine is intricately balanced with notes of oak and vanilla, creating a buttery and lingering finish on the palate.
⇐ 2018 Pinot Noir
From the Hill Block, this pinot has a fragrant perfume reminiscent of forest fruits. A sophisticated combination of ripe cherries and spices are complemented by French oak to provide a subtle lingering finish. This pinot noir will develop in the bottle for over a decade.
⇐ 2019 Tempranillo
From this Spanish classic you can expect wild berries, a little spice with a dash of vanilla. Estate grown, this wine makes the perfect addition to all cuisines with its delicate palette, to be enjoyed with distinctive flavours.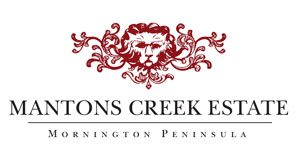 VISITOR'S GUIDE
Getting There
240 Tucks Road,
Shoreham
Contact Details
Tel: (03) 5989 6264
Email: cellardoor@mantonscreekestate.com.au
Website: www.mantonscreekestate.com.au
Cellar Door
11:00am–4:00pm weekends, with extended hours over summer
Restaurant
Quattro Restaurant
casual-style dining
Weddings & Functions
Casual-style dining
Accommodation
Four luxurious suites