It is well known that 'great wine is made in the vineyard', and the Soumah team set out to select an exact location for winemaking that delivers every advantage of a cool climate, undulating topography, and ancient soils. The team found its sought-out hidden gem located down a country lane, in the dress circle of the Warramate foothills of Gruyere. This pristine area, nestled amongst the hills – 'South of Maroondah Highway', now Soumah – is home to some of the most prestigious vineyards in all of Australia. It is from here that Soumah nurtures many northern Italian varietals as well as classic chardonnay, pinot noir and syrah.
From a winemaking perspective, the terroir is similar to northern Italy with short, dry, hot summers and cool nights throughout. Even the fog that descends upon the Valley in late summer is reminiscent of those lands. The team continually search for native northern Italian vines to plant as well as select great examples of classic wines to import.
Upon arrival, the captivating vineyard views and Warramate Hills beyond will immediately win visitors over. To fully immerse yourself in the Soumah experience, the knowledgeable cellar door team conduct tutored wine tastings, covering the history and winemaking process. Tastings can also be personalised to suit your preference.
In 2020, London-based Decanter World Wine Awards judges tasted 16,518 wines from fiftysix countries, with the net result being a 'Best in Show' award for the winery's 2018 Equilibrio Chardonnay. If you opt for a Premium Wine Experience, this award-winning wine is one of the reserve quality, limited production, and museum release wines in that tasting flight.
The winery's restaurant, Trattoria d'Soumah, offers woodfired pizzas and fresh, seasonable pasta dishes, plus a house-made dessert menu replete with wine-infused sorbets. For something different, try Merenda, a new and unique experience involving a traditional Italian afternoon tea with a glass of bubbly accompanied by a selection of treats.
If you would like to extend your visit, Ville d'Soumah is the perfect place to stay; a spacious, modern country-style home situated on the property, just steps away from the cellar door and restaurant. Awarded Yarra Valley Winery of the Year for 2017 and 2019, Soumah of Yarra Valley is a bucket-list destination.
⇐ 2020 Brachetto Frizzante d'Soumah

A rare variety that is grown in only a few vineyards across Australia, Brachetto can easily be equated to liquid Turkish delight. Rose water and strawberry flavours delight the senses, finishing clean and fresh. This wine is perfect for the start or end of a meal with its light bubbles and light sweetness.
⇐ 2017 Single Vineyard Nebbiolo

Violets, roses and truffle aromas flourish with hints of tobacco and tarry oak in this stunning nebbiolo. Although lighter in colour, it has a rich palate of firm tannins and dark fruit with an elegant mouthfeel, supported by a lengthy, complex finish.
⇐ 2019 Single Vineyard Hexham Pinot Noir

Boasting vibrant cherry on the nose and an intense palate of red fruit, crushed raspberry leaf and deep forest flavours, the 2019 Hexham Pinot Noir has an elegant weight, balanced length and precise fruit definition, allowing the wine to finish with clean minerality. Pair it with slow-roasted duck or herb and pecorino stuffed Portobello mushrooms for a delicious meal.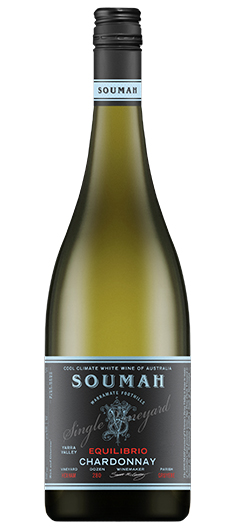 ⇐ 2018 Equilibrio Chardonnay

Winner of 'Best in Show' award at the 2020 Decant World Wine Awards, this chardonnay shows nuances of white flower, vanilla and grapefruit that combine on the nose with smoky undertones of toasted hazelnuts. The youthful palate has great persistence and tight minerality, displaying excellent structure alongside fine balance.
.
VISITOR'S GUIDE
Getting There
18 Hexham Rd
Gruyere
Contact Details
Tel: (03) 5962 4716
Email: sales@soumah.com.au
Website: www.soumah.com.au
Cellar Door
10:00am–5:00pm Monday to Friday
Until 6:00pm on weekends
WINTER HOURS: 10:00am–5:00pm Monday to Friday
Until 5:00pm on weekends
Closed Christmas Day
Restaurant
Trattoria d'Soumah, Italian Cuisine
11:30am–3:00pm Monday to Friday
Until 4:00pm on weekends
Closed Christmas Day
Weddings & Functions
Functions only: Max 20 for lunch and 40 for dinner
Accommodation
Ville d'Soumah, on-site country-style home

Additional Features
Outdoor seating, Merenda at Soumah, premium seated wine tastings, wine club, Masterclass Series