Prancing Horse Estate is the biodynamic pioneer of the Mornington Peninsula. It first introduced cool-climate organic farming and winemaking in 2002, together with international expertise in site, soil and clonal selection. The wines, made by Richard McIntyre and Jeremy Magyar from Moorooduc Estate, are elegant and focused with a true strength of signal achieved from rigorously maintained vineyards.
In the Red Hill South vineyards, Prancing Horse Estate proprietor Tony Hancy has advanced quality by using French-wine consultants to improve the biology of his soils, vines and fruit. Since taking on the now 33-year-old site, Hancy has pioneered a biodynamic vinicultural model seen in the most revered and ancient vineyards of Burgundy. With biological thinking and natural organic preparations such as seaweed, compost and teas, he's pushed aside pesticides and additives to make truly authentic wines.
The best wines have the complexity and finesse reminiscent of good Burgundy. Hancy believes climate, slope and soil are implicit in the consistent style differences between his and other vineyards; the differences in aroma, flavour and most importantly, the structure of the wines.
In 2012, Hancy introduced a new range of wines called The Pony, sourced from the estate's younger vineyard, which was planted in 2005 and picked for the first time in 2011. A number of Burgundy clones were carefully selected for their suitability to this vineyard's unique rural/coastal aspect. The focus here is on more fruit-driven, early-drinking wine from the meticulously tended young vines. Expect wines that are a delight to drink now.
The proof of Prancing Horse Estate's potential is evident in its exceptional-quality wines. Hancy is happy to open these bottles with his cellar door guests and delights in sharing them with young wine lovers. The cellar door provides one of the most breathtaking seascape views of any cellar door in Victoria. For Hancy, the vineyard conveys a special sense of place and a growing tradition. Because of this, he takes immense pride in its cultivation.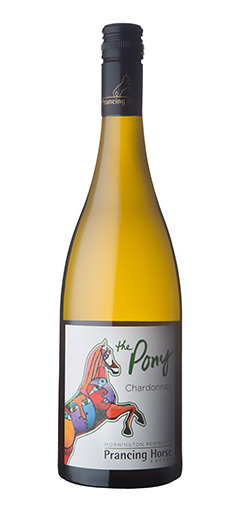 ⇐ 2019 Prancing Horse Estate 'The Pony' Chardonnay​
This wine, to say the least, is full of decadent flavours and aromas, such as stone fruit, citrus, almond and spice, forming a generous drinking experience. The refreshing acidity further enhances this chardonnay, ensuring a clean, dry and resonant aftertaste.
⇐ 2019 Prancing Horse Estate Chardonnay 
The flavours are full and layered with a lovely mouth feel, demonstrating the maturity of the thirty-five-year-old block vineyard at Prancing Horse. Creamy textured flavours combine with cashew and stone fruit to produce a seriously decadent wine tasting experience.
⇐ 2021 Prancing Horse Estate Longitude 145 East Pinot Noir
This pinot noir is medium to deep red in
colour with a bouquet that has a lot of toasty, smoky and vanilla oak-derived characters. The palate is full and rich, concentrated and well structured, with ample tannins, and it combines in a crescendo of impressive length. The
wine is fruit-sweet at the core then finishes with serious structure.
⇐ 2021 Prancing Horse Estate Latitude 38 South
Pinot Noir
Bright, youthful, a delightful red/purple in colour and of medium
depth. The bouquet is reserved and shy, with some smoky spicy dark-red fruit nuances, a touch of wood and some vanilla later. In the mouth, it is quite intense and deep, with good concentration and tannin spine, then a lingering finish. A solidly built pinot that begs to be given more time and will take several years in its stride.
VISITOR'S GUIDE
Getting There
39 Paringa Road,
Red Hill South
Contact Details
Mobile: 0419 393 145
Email: tonyhancy@prancinghorseestate.com
Website: www.prancinghorseestate.com
Cellar Door
Open weekends 12:00pm–5:00pm
Tutored tastings by appointment
Bookings preferred
Restaurant
No
Weddings & Functions
No
Accommodation
No

Additional Features
Online newsletter and shopping cart