The stunning vineyards and rolling grasslands of Russo Estate first opened in 2016, after founder Joe Russo and his family spent many hardworking years farming the land and establishing the cellar door and restaurant. The winery now specialises in sublime red wine varieties, from shiraz to cabernet sauvignon, pinot noir and rosé.
Russo Estate's wines are inspired by the master of illusion, Harry Houdini, which has led to the Howdini label; a spirited play on words. The estate, located in Diggers Rest, is where Houdini flew the first plane more than 100 years ago as Australia's first ever successful aviator, making this piece of history especially significant.
Although influenced by this famous illusionist, the magnificent flavours and quality of Russo Estate's wines are purely genuine, no sorcery in sight, a testament to the winemakers' passion and attention to detail. Visitors are encouraged to book a wine tasting at the cellar door to the get the full guided experience.
Providing further evidence of Russo Estate's brilliance is its many awards won over recent years, including the Australia Good Food Guide Award gained in 2020 and 2021; the Restaurant Guru title in 2019; and Easy Weddings' 5-star award in 2019, 2020 and 2021, with the estate home to some of the Macedon Ranges' most picturesque nuptials.
Russo Estate has nine luxury domes available for on-site accommodation, providing a unique stay for guests. These domes offer an extravagant 'glamping' experience with a full bathroom and direct access to the picturesque views, plus they are in walking distance of the a la carte restaurant, where guests can enjoy seasonal menus consisting of fresh, locally grown produce.
If you plan to spend just the day exploring the estate, try one of three picnic hampers on offer and enjoy a selection of dips, antipasto, sandwiches, cheeses, fruit, desserts and more while relaxing around the spacious outdoor areas. Russo Estate is also a fantastic place to hold your next function or wedding. Visit the website to find out more and shop the full range of wines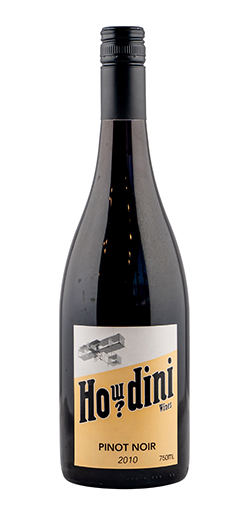 ⇐ 2010 Howdini Pinot Noir

In a time-honoured tradition, the grapes for this delicious wine were handpicked from Russo Estate's single vineyard, which spent ten months of maturation in French oak barrels to produce a pinot noir full of rich red berry flavours finishing in soft tannins.
⇐ 2009 Howdini Cabernet Sauvignon

Also handpicked from the single vineyard, this beautiful cabernet sauvignon matured in French oak barrels for twenty-four months. With a rich red colour, this gorgeous wine has a complex full flavour of berry fruits with a lingering finish.
⇐ 2012 Howdini Shiraz

This 2021 Howdini Shiraz endured a cooler season for a late ripening, after which the grapes were handpicked and matured in French oak barrels for more than twelve months. Ripe full flavours of plum, pepper and sweet spices warm the palate while light tannins with a distinct lingering flavour make an appearance.
⇐ 2016 Howdini Pinot Noir

Russo Estate's pinot noir matured in French oak barrels for eighteen months, leaping out of the glass with apricot, cherry and strawberry on the nose, rooted by silky tannins. This is complemented by a palate of sour cherry and zingy cranberry fruit, finishing with vibrant persistence and savoury flavours.
VISITOR'S GUIDE
Getting There
760–818 Holden Road,
Diggers Rest
Contact Details
Tel: (03) 9740 0222
Email: info@russoestate.com.au
Website: www.russoestate.com.au
Cellar Door
Open for appointments only
Restaurant
Open for lunch 11:30am to 3:00pm, Wednesday
to Sunday
Open for dinner 5:30pm to 9:00pm Wednesday
and Thursday, and until 10:30pm Friday to Sunday
Closed Monday and Tuesday
Italian–Australian Cuisine
Weddings & Functions
Max 300 people
Accommodation
Luxury Domes
www.luxurydomes.com.au
Additional Features
Marquee Seating, picnics, function spaces, online wine sales, at-the-table wine tasting, cocktails