An essential destination of the Bellarine, Jack Rabbit Vineyard's restaurant, winery and cellar door offers visitors the ultimate daytrip when only a brilliant regional experience will do. The unrivalled panoramic views across the bay to Melbourne, the You Yangs and Geelong are just the beginning. This winery has forged a reputation as a gastronomic showpiece for the Bellarine alongside a stable of sophisticated cool-climate wines.
Jack Rabbit Vineyard's executive chef Dwayne Bourke and the talented culinary team have created a stunning, seasonal a la carte menu, featuring an abundance of local produce to indulge even the most discerning culinary whim. Expect a veritable feast of the senses when you dine here.
The calibre of this iconic destination is reinforced by an ongoing string of awards. Jack Rabbit Vineyard landed double gold in the 2019 Victorian Golden Plate Awards – both the state wide Golden Plate as well as the gong for Best Contemporary Restaurant Dining. These accolades followed when Jack Rabbit Vineyard was crowned 'Best Restaurant in a Winery' as well as 'Best Tourism Restaurant' (Victoria & Tasmania) in the prestigious Savour Australia Restaurant & Catering Awards in 2019.
For those opting for a more casual dining experience, the spectacular 'House of Jack Rabbit' cellar door and tasting room serves up a terrifi c café-style menu (with equally stunning vistas on offer).
Winemaker, Nyall Condon has an exceptional history of excellence in all aspects of vineyard establishment, winery installation and wine making in South Australia and Victoria. Nyall's approach to winemaking is very much about minimal intervention and retaining the natural characters of each varietal – the fruit is the hero.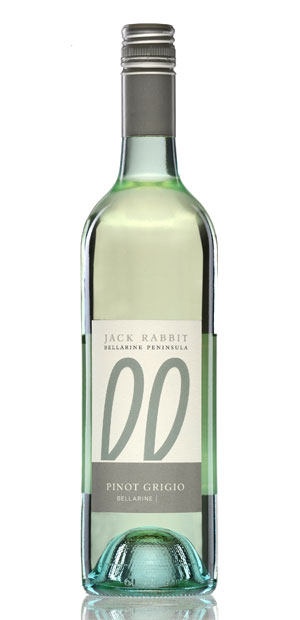 ⇐ 201 Jack Rabbit Pinot Grigio
Delight in this classic cool-climate pinot grigio. This wine exhibits definitive components abound with pear, apple and vivacious spice. With the slightest hint of arrogant pithy cumquat, this varietal engages with an elegant finish, which displays a wonderful, refreshing acidity.
⇐ 2017 Jack Rabbit Chardonnay
This elegant chardonnay displays imperious varietal aromas of stone fruit, citrus and green plum. The grapes are handpicked, fermented and nurtured in French oak barrels, creating a wine of great line, purity and balance. The palate reveals fresh fruit flanked by animated notations of burnt butter, crisp apple and vanilla, and exhibits acidity, which ushers in a clean, refreshing and driven finish.
⇐ 2019 Jack Rabbit Rosé
This vivacious pinot noir rosé empowers the palate from its first encounter with it. With fragrant nuances of strawberry, cherry and redcurrant. Delicious toffee apple and citrus notes precede a rounded finish with a delightful nudge of astringent bounce.
⇐ 2017 Jack Rabbit Cabernet Shiraz
This elegant medium-bodied wine displays daring aromas of chicory, ripened blood plum and cassis, which reveals a soft inner soul of chocolate, leather and rich, succulent fruit. This shiraz has a voluptuous mid-palate, which exhibits hints of pepper and wood spice. The silky tannin structure and sumptuous pampering in premium French oak ensure the palate's journey is luxuriant.
VISITOR'S GUIDE
Getting There
85 McAdams Lane,
Bellarine
Contact Details
Tel: (03) 5251 2223
Email: enquiries@jackrabbitvineyard.com.au
Website: www.jackrabbitvineyard.com.au
Cellar Door
Open 10:00am–5:00pm daily
Restaurant
Contemporary Australian
Open 10:00am–5:00pm daily and for dinner Friday and Saturday
Weddings & Functions
Max 120 seated and 200 cocktail
Accommodation
No

Additional Features
Guided tastings, Provedore and online wine sales