Established in 1982, Scotchmans Hill is located in the heart of the Bellarine Peninsula. A producer of premium, cool maritime-climate wines, Scotchmans Hill has been a leading local winery for more than thirty years and is rated among James Halliday's top 100 Australian wineries. Following the planting of vines in 1982, Scotchmans Hill has become the oldest and largest winery in the region.
Nestled on one of the highest points in the beautiful Bellarine Peninsula, the winery boasts amazing panoramic views across Port Phillip Bay through to the cosmopolitan Melbourne cityscape. Scotchmans Hill's stunning cellar door – a renovated French-provincial farmhouse that's located among the vineyards on the 120-hectare estate – provides a welcoming and memorable wine-tasting experience for visitors. The cellar door was recently awarded Best Large Cellar Door in the Geelong Region by Gourmet Traveller WINEand a Certificate of Excellence from TripAdvisor.
Scotchmans Hill offers a strong focus on quality wine and service, and visitors are encouraged to take part in a comprehensive tasting session, buy wine by the glass or bottle, or simply enjoy the atmosphere.
The venue features an open alfresco area that's perfect for those warm, lazy days, as well as a superb fireplace to keep guests cosy during the winter months. Patrons can enjoy a selection of lunches and shared platters inspired by local produce, while savouring Scotchmans Hill's award-winning wines. Accolades include Best Pinot Noir and Wine of Show for the 2017 Cornelius Norfolk Pinot Noir and the Rosé Gold Award for the 2019 Swan Bay Rosé at the 2019 Geelong Wine Show.
From wine novices to connoisseurs, Scotchmans Hill's knowledgeable, passionate and friendly staff take visitors on a journey of fun and informative tastings that will leave them with a deeper understanding, appreciation and enjoyment of wine for years to come.
For those seeking a truly memorable wine-tasting experience, Scotchmans Hill offers seated, guided wine tastings for six to twenty people in its private tasting room, combined with grazing platters on request. Afterwards, you can take in the picturesque sights on the property and truly unwind. The Bellarine Peninsula is a perfect destination for food and wine lovers, and Scotchmans Hill is a shining gem in the region's crown.
⇐ 2015 Cornelius Sutton Chardonnay
Complex bouquet with a heady mix of white peach, citrus fruits, creamy barrel-ferment notes and an overlay of burnt matchstick. Stone fruit and citrus flavours make way to a creamy mid palate of grilled cashews and a burnt matchstick finish. A tight, fresh palate built for aging, this wine will reward cellaring for ten to fifteen years.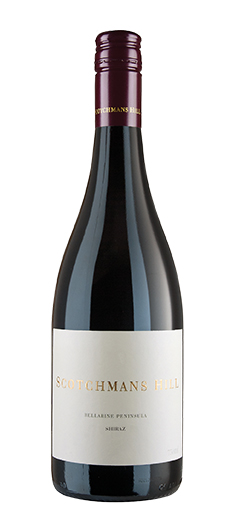 ⇐ 2019 Scotchmans Hill Shiraz
Bearing an intricate nose of dark plum, ripe cherry aromas, spice and pepper notes with cedar oak round out the bouquet. The palate is bright with an array of red fruits and dark cherries. Medium bodied mid palate with integrated tannins and oak. The wine has great balance and structure which will give great longevity.
⇐ 2020 Scotchmans Hill Pinot Gris
Pale straw in appearance, the bouquet is complex with cut pear and spice meeting creamy notes of barrel-ferment and a hint of oak. This wine has a tight mineral palate of nashi pear, lemon zest and spice flavours with a creamy mid palate and a light oak finish.
⇐ 2019 Mount Bellarine Pinot Noir
Boasting a lifted nose of red plums, raspberries and spice with hints of cedar oak. The palate is full and juicy with ripe plums, beetroot and spice. This uplifting flavour is tempered by cedar oak and firm tannins.
VISITOR'S GUIDE
Getting There
190 Scotchmans Road,
Drysdale
Contact Details
Tel: (03) 5251 4431
Email: bookings@scotchmans.com.au
Website: www.scotchmans.com.au
Cellar Door
Open 1:30am–4:00pm daily
Restaurant
Lunches and shared platters inspired by local produce
Open 11:30pm-4:00pm daily during summer months, closed Tuesday during winter months
Weddings & Functions
Yes (100+ seated and 120 standing)
Accommodation
No

Additional Features
Guided tours, wine masterclasses and online sales. A private tasting room for six to twenty-five people is available upon request