Surrounded by Bendigo's rolling hills, situated amongst luscious greenery lies Vin du Van Estate. Formerly known as Lynnevale Estate, the vineyard has seen a recent change of ownership, breathing new life into this magnificent vineyard. With exceptional views of the surrounding region, Vin du Van Estate's restaurant and cellar door capitalises on the beautiful surrounds and overlooks immaculate rows of luscious green vines.
Located on fertile soils in the geographical centre of Victoria, the Estate's initial vines were planted in the flood plain of Sheepwash Creek in 1999, serving as the foundation for the exquisite award-winning wines produced by the Estate. Since the vines' maturation, they have been exceptionally tended, allowing the continued production of beautiful, refined wines.
The boutique winery focuses on small batch varietals, allowing the grapes yielded from its beautiful vines to receive intensive care and attention throughout the growing and harvesting process that is near impossible to achieve at larger wineries.
Shiraz and cabernet grapes are grown on-site and are used to make up a range of the wonderful varietals offered by Vin du Van Estate. However, the winery specialises in a range of white, red and rosé wines, allowing it to truly cater to everyone's tastes.
Striving to offer an all-encompassing and truly immersive experience, Vin du Van encompasses a newly renovated restaurant and accommodation on-site. Its cellar door is home to the revamped restaurant, which offers delectable a-la-cart bistro style dining, complete with a contemporary Australian and European-inspired menu, with plentiful, locally sourced food. Surrounded by native gardens and water features overlooking the picturesque vineyard and neighbouring Mandurang Valley, Vin du Van Estate is truly a breathtaking experience.
When a day trip isn't long enough, extend your visit and stay at the estate's unique vintage campervans. Including all the luxuries of comfortable home living, this exciting accommodation allows those wanting to be immersed in the vines a private taste of all the wonders of the vineyard.
⇐ 2016 Vin du Van Estate Cabernet​

A dense red colour, this wine has the aromas of ripe, dark plums, sweet chocolate, red fruits and spices. The palate has a concentration of full and rich flavour, which is stylish yet powerful. Plums, red fruits, licorice, and spices fill the palate. This is a well-structured wine with layers of textured tannins.
⇐ 2017 Vin du Van Estate Verdelho

Pale-straw in colour with hues of green, this verdelho has aromas of apricot blossom and hints of pineapple. Flavours of fruit salad and new season stone fruits are carried by crisp pineapple acidity and a fleshy texture leaves a persistent fresh finish.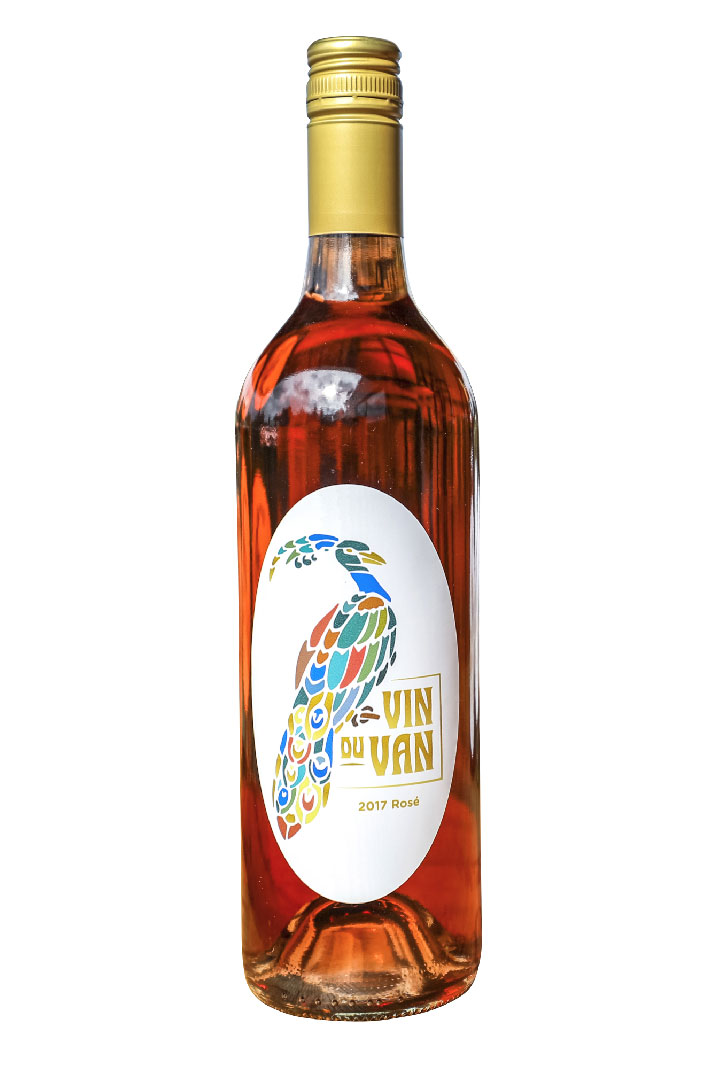 ⇐ 2017 Vin du Van Estate Rosé

This rosé is a blend of shiraz and cabernet grapes from Vin du Van. It is feather-light and elegant, with hints of strawberry and a refreshing aroma. It has the classic Provence pale-pink colour, a vibrant acidity and a very subtle fruitiness on the finish.
⇐ 2016 Vin du Van Estate Shiraz​

The shiraz is a brilliant purple-red colour with a youthful edge. The blueberry spice flavours are lashed with red licorice and ripe dark plum flesh, with hints of seasoned oak char. This wine is juicy and textural, revealing a wonderful density of fruit with fine tannins leading to a graceful finish in the mouth.
VISITOR'S GUIDE
Getting There
83 Cahills Road
Mandurang
Contact Details
Tel: (03) 5439 3635
Email: info@vinduvanestate.com
Website: www.vinduvanestate.com
Cellar Door
Open weekends and public holidays 11:00am-5:00pm
Restaurant
Yes, bistro reservations essential
Weddings & Functions
60 seated and 100 cocktail
Accommodation
Vintage caravans available for a unique getaway
Additional Features
Newly renovated cellar door and restaurant offering both sophisticated bistro and casual café dining experiences