Trentham Estate is a family-owned boutique winery located right on the banks of the Murray River at Trentham Cliffs, just fifteen minutes from Mildura. A three-time winner at the Inland NSW Tourism Awards, Trentham Estate offers wine tastings and sales in its unique cellar door, with elegant surrounds and stunning views. In the restaurant or on the balcony alfresco, enjoy a culinary experience that is fresh, simple and modern, while focusing on the use of local produce.
Founded by Jack and Moya Murphy as a farm, which included plantings of citrus, vegetables and grapes for fortified wines, the property was later replanted to specialise in varietal grapes. The vines flourished in the rich red loam over limestone soils, nurtured by water from the Murray River.
The first vintage was produced in 1984, using only six-tonnes of grapes. Jack Murphy instilled his knowledge of viticulture to his sons Anthony and Patrick, who established Trentham Estate in 1988.
The winemaking philosophy at Trentham Estate has always been to produce high quality varietal wines at an affordable price, with an emphasis on full fruit flavour and palatability. Trentham Estate encompasses alternative varieties, celebrating its Irish and Italian heritages.
The grapes are picked and crushed at optimum ripeness to produce the perfect flavour, and the experienced winemakers use various winemaking styles to create the award-winning wines Trentham Estate is known for.
The wine list is comprised of more than twenty varieties including traditional favourites such as sauvignon blanc, chardonnay, pinot noir, merlot, and shiraz, as well as a range of alternative varieties including pinot gris, vermentino, moscato and nebbiolo. Wines of limited bottlings are also available at the cellar door only. With a wine list this extensive, the vast range of wines from Trentham Estate has something to please everyone.
⇐ 2020 Estate Pinot Gris

This pale green pinot gris has hints of pear and baked apple on the nose, accentuated by honeysuckle and light tropical fruits. The palate is slightly sweet for a full round and soft wine, best enjoyed with a cheese platter or spicy Asian dish.
⇐ 2019 Estate Pinot Noir

Plum and warm spices give a vibrant aroma to this cherry red wine, the taste of berries and subtle French oak on the palate with a soft and silky finish. The 2019 Estate Pinot Noir is beautifully paired with a variety of dishes, including antipasto, light tomato-based pasta and duck.
⇐ 2020 The Family Sangiovese Rosé

The nose is full and vibrant with aromas of strawberries and cream, rose petals and lavender. Juicy red fruits and layers of rhubarb dance on the palate, bringing the wine to life with a dry finish. It is best enjoyed chilled with an antipasto platter, seafood or an Asian dish.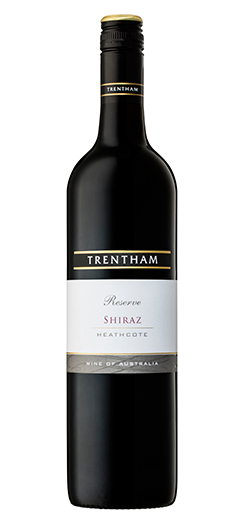 ⇐ 2017 Reserve Heathcote Shiraz

This rich shiraz has a lovely and luscious combination of pepper, plum, dark cherry and chocolate on the nose, translating seamlessly to the palate with a fruity sweetness balanced by fine mocha oak.
VISITOR'S GUIDE
Getting There
Sturt Highway, Trentham Cliffs, New South Wales
(15 minutes from Mildura)
Contact Details
Mobile: 03 5024 8888
Email: info@trenthamestate.com.au
Website: www.trenthamestate.com.au
Cellar Door
Open 10:00am–5:00pm daily
Closed New Year's Day, Australia Day, Good Friday, Anzac Day, Melbourne Cup, Christmas Day and Boxing Day
Restaurant
Modern Australian
Open from 12:00pm for lunch Wednesday to Sunday
Weddings & Functions
60 seated indoors, 160 in marquee and 200 cocktail
Accommodation
No
Additional Features
Houseboat mooring available, free wine tastings and cellar door specials, ample parking space for RVs and cars or vans towing boats, wheelchair access available.