Tallis Wine is a small family-owned and -operated vineyard, winery, and cellar door located in the rich, red hills of Dookie on the north-eastern edge of central Victoria. The region was once at the forefront of Victoria's wine industry, flourishing in the late 1800s with expansive vineyards, which produced one-third of Victoria's wine at their peak. Local history remembers annual wine balls that were held on the property in its vast and still undiscovered underground cellar, buried beneath the Dookie hills.
For several generations, the Tallis family has lived within the Dookie district running traditional farming enterprises, including wheat, canola and sheep. Their wine journey began in 1997 and they now have sixty acres under vine, which produce varietals including cabernet, merlot, riesling, shiraz, grenache, sangiovese, nebbiolo, barbera and viognier. In an Australian first, Tallis recently also released a new Turkish varietal,bogazkere, never before grown in Australia.
Owners Richard and Alice Tallis are committed to producing 100 per cent estate-grown wine that reflects the unique Dookie terroir, characterised by a warm climate and distinct, ancient Cambrian soil. They place strong emphasis on sustainability and are committed to maintaining low-input, regenerative systems within the vineyard. This extends to their minimal-input winemaking philosophy and storage of wine in an environmentally friendly straw-bale barrel hall, which was built using bales grown on the property.
Designed to reduce its environmental footprint and maintain a sense of cohesion with the surrounding countryside, the unique cellar door showcases distinct, handcrafted single-vineyard wines, complemented by warm, relaxed hospitality. Visitors may choose to be guided through a free tasting, or savour a glass of the vineyard's best with a selection of seasonal grazing platters. For Tesla drivers, there is also a car charging opportunity available on site.
Located behind the cellar door is the property's Rock Correa walking track. Interspersed with eleven interpretive signs, this trail offers a chance to spot the native wildlife and learn about the local Indigenous history and early settlement before taking in breathtaking panoramic views at the summit. The Tallis Wine cellar door is a rewarding haven for wine lovers and is well worth a visit when staying in the area. Bookings are recommended, so organise your visit today and book online via the Tallis Wine website.
⇐ Sparkling Viognier

One of the only sparkling viogniers to be produced in Australia, this wine is a flirty celebratory sparkling that displays fresh, tropical fruit and honeysuckle characters in its youth before becoming silky and rich as it develops. A creamy, persistent mousse and fine bead provide a delicately rich mouthfeel with a refreshingly zingy finish.
⇐ Boğazkere

The Dookie property is the first in Australia to produce this new Turkish varietal. Medium-bodied with grenache-like fruit characters, this wine exhibits spicy raspberry, cherry and rose petal flavours and finishes with a lingering, fine, powdery tannic grip that makes you hungry.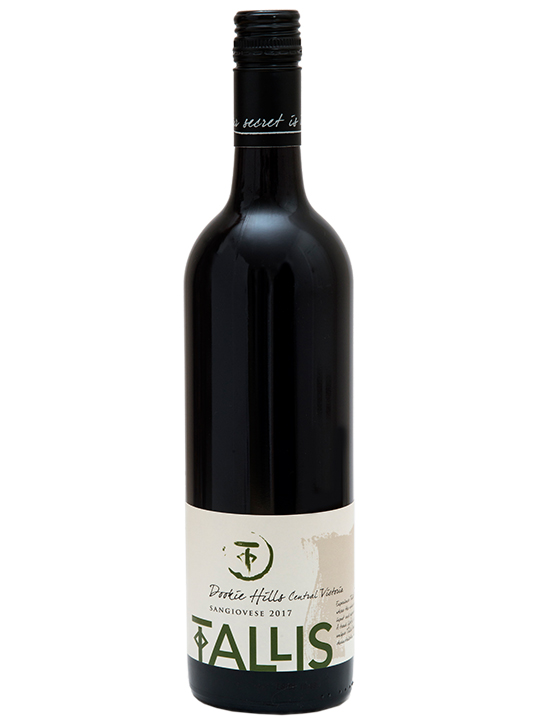 ⇐ Sangiovese

A Tallis Wine favourite, boasting an earthy crimson colour and perfumed cherry nose, this wine reveals touches of cinnamon and vanilla, followed by aromas of herbs and tobacco, which hint at the savoury palate. The acidity in the vibrant red- fruit flavours are balanced by a dusty tannin structure, while good length rounds out a moreish package.
⇐ Viognier

This viognier is bursting with vibrant tropical fruit flavours, with hints of musk and ginger lingering in the background creating a heady exotic mix. The palate brings orange blossom, glacé orange, white peach and apricot, which provide a soft, rounded and textural mouthfeel. The flavours are generous, persistent and carried by well-balanced acidity.
VISITOR'S GUIDE
Getting There
195 Major Plains Road,
Dookie
Contact Details
Mobile: 0437 825 547
Email: info@talliswine.com.au
Website: www.talliswine.com.au
Cellar Door
Opening hours may vary, please consult the website before your visit; online bookings highly recommended
Restaurant
A variety of shared tapas-style grazing platters available
Weddings & Functions
No
Accommodation
No

Additional Features
Rock Correa interpretive walking, online shop, Tallisman Club