Specialising in handcrafted boutique wines, Sandhurst Ridge is a family winery with a history that traces back to northern Italy. The Greblos owned vineyards outside Trieste until they were forced to abandon them when the borders changed after World War II. A move halfway across the world to the rural town of Bendigo didn't stop Papa Theo from making wine, but the grapes had to be outsourced.

In 1989 his sons Paul, George, Silvano and John stood on a vacant elevated site adjacent to a state forest just outside of Marong and decided that it would be ideal for low-yielding vines, which would produce high-quality grapes with
intense varietal flavours.

In 2001 two of the Greblo brothers decided they loved fishing more than wine, leaving Sandhurst Ridge in the more than capable hands of Paul and George and their respective spouses, who now reside at the vineyard and manage all aspects of the business. The winery is the brothers' passion and they take pride in watching it prosper.

George is the vineyard manager and meticulously tends to the wines, while also managing the vineyard's soils. He oversees the hand pruning of all the vines and thoroughly enjoys the fruit of his labours at the end of the day.

Winemaker Paul's simple philosophy is to let the vineyard make the wine and interfere with the winemaking process as little as possible. His aspiration is to have Sandhurst Ridge's original wines develop with distinctive and memorable characters of the highest quality.

The nine varieties produced by the winery are shiraz, cabernet sauvignon, merlot, nebbiolo, sauvignon blanc, fringe shiraz, fringe cabernet sauvignon, fringe shiraz classic blend, reserve shiraz, and dolce bianco (a sweet sauvignon blanc). At the cellar door, visitors will find all of the winery's various varieties available for tasting, which are often served by Paul or George, who enjoy a good chat when the vintage is over.
⇐

2012 Sandhurst Ridge Shiraz



This powerful and generous wine is quintessential of central Victoria, with great medium-term aging potential. It is a serious wine with dark plum and berry fruit characters, as well as dry spice and vanilla flavours. The palate is deep and rich, with succulent fruit and spice balanced out by long, ripe tannins.
⇐

2012 Sandhurst Ridge Reserve Shiraz



Aged in French and Hungarian oak, this wine has a savoury, restrained edge. Built for time, it has savoury chocolate undertones and soft, plummy fruit and spice flavours. The palate is slightly closed, with the promise of a long future encased in a tightly coiled, savoury ball of plummy goodness.
⇐

2012 Sandhurst Ridge Fringe Shiraz Classic Blend



The minor portion of cabernet in this wine adds an earthy, alluring complexity to the sweet, ripe shiraz fruit on the nose. The palate packs a real punch with generous dark berries foiled by firm, dry tannins. It is a great example of classic Australian style.
⇐

2013 Nebbiolo



The intriguing bouquet, which shows notes of cherry, leather and rose petals, of this northern Italian grape variety draws you in. However, it is upon tasting the balance of savoury fruit, plush velvety texture and fine, slightly grippy tannin structure that sets this wine apart, revealing the generosity and moreishness of a Bendigo wine.

.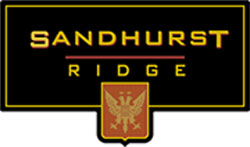 VISITOR'S GUIDE
Getting There
156 Forest Drive,
Marong
Contact Details
Tel: (03) 5435 2534
Email: wine@sandhurstridge.com.au
Website: www.sandhurstridge.com.au
Cellar Door
Open 11:00am–5:00pm daily
Closed Christmas Day and Good Friday
Restaurant
No
Accommodation
Two boutique cottages, each accommodating one couple

Additional Features
Picnic facilities, cellar door discounts and online wine sales