Nestled amongst 100-year-old towering eucalyptus trees and luscious vines lies Munari Wines. Situated in the heart of Heathcote this impressive vineyard, established in 1987, works in harmony with nature to produce a plethora of award-winning wines.
Receiving critical acclaim, this unique vineyard was awarded a 5-star rating in the 2021 Halliday Wine Companion. Despite Munari Wines' formidable reputation for expertise in viticulture and winemaking, the winery is still family-owned and -operated by Adrian and Deborah Munari, their son Beauregard, and daughter and manager, India, who pride themselves on the Cellar Door's welcoming, relaxed environment suitable for the whole family.
Initially beginning as a sheep station and commencing in 1992, it was under Adrian Munari's vision that the family expanded the existing 5-acre vineyard to encompass the sprawling 18-acre vineyard, winery, cellar door, and café present today. Having recently renovated the cellar door to include a glass enclosed, atrium-style café with charcuterie, tea and coffee, which overlooks the vineyard as well as Mount Ida, Munari Wines encourages its guests to soak up the stunning scenery; even offering picnic blankets to those in need.
Taking advantage of Munari Wines' prime positioning and central location, the quaint tasting room – once the original stables – has been renovated to provide a rustic and intimate tasting experience with views of the beautiful rural surrounds.
At the cellar door, guests will be warmly greeted by the welcoming family, including Panther; the friendly black Labrador who adores each person who steps through the winery's doors. Panther will be the first to recommend the beautiful Italian-style antipasto on offer and will look on enviously as you enjoy an array of decadent meats from Oakwood Butcher in Castlemaine, cheeses; including a traditional Italian Pecorino, and local condiments from the Heathcote Artisan.
While the merits of visiting Munari Wines are unlimited, the greatest attraction is undoubtedly its acclaimed wines. The unique Heathcote terroir allows a great diversity of red and white wines to be produced including merlot, shiraz, cabernet sauvignon, vermentino, and garganega. There is even an imported Italian prosecco for those that enjoy bubbles. Munari Wines has six of their current vintage wines rated as 90 or above in the 2021 Halliday Wine Companion as well as countless medal wins during their twenty-nine years of winemaking history.
⇐ 2016 The Gun Picker Shiraz Cabernet

A 3:2 ratio of shiraz and cabernet grapes contribute to summer berries, blackberry, and freshly baked pastries which is complemented by an alluring herbal element driven by the cabernet. It has an explosive, fruit-driven and concentrated mid palate with exquisite textured tannins.
⇐ 2015 Ladys Pass Shiraz

Dark and inky in colour with aromas of blackberry, bramble, coffee, and cocoa, this quintessential Heathcote Shiraz is brimming with flavours of luscious dark berries, anise, black olive and a slightly smoky edge. An elegant and well-rounded wine with rich texture, supple tannins and a linear structure.
⇐ 2020 Il Fresco Vermentino

This fruit-driven, crisp white displays gorgeous aromas of lime, honeydew, tropical fruits, and citrus rind. Elevated by a mineral and zesty finish, the fresh fruit flavours continue through the palate, complemented by a textural and rounded mouth feel thanks to lees stirring post-fermentation.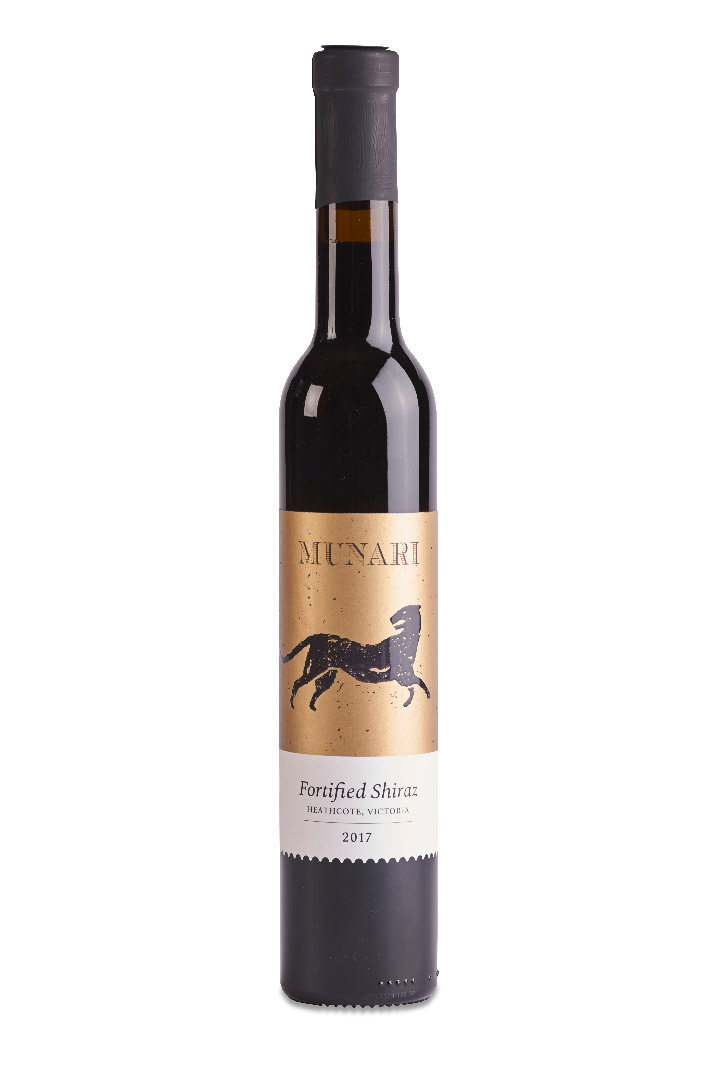 ⇐ 2017 Fortified Shiraz

Aromas of dark chocolate, rum and raisin, and hints of cinnamon, pair beautifully with flavours of cocoa and sweet oak; accentuated by lifted rich spirit aromas from the brandy fortification. Acidity, alcohol, and ripe flavours harmoniously combine to produce great length. Drink now or allow it to age gracefully into a voluptuous full-bodied wine.
VISITOR'S GUIDE
Getting There
1129 Northern Highway,
Ladys Pass
Contact Details
Tel: 0429 804 360
Email: munariwines@bigpond.com
Website: www.munariwines.com
Cellar Door
Open Daily 11:00am-5:00pm
Restaurant
Café-style, shared charcuterie platters
Weddings & Functions
Max. 36 seated
Accommodation
No
Additional Features
Tea and coffee, small gift shop, family and dog-friendly