Established in 1888 by the Chaffey brothers, Chateau Mildura boasts a rich history that is evident through the winery's mature vines and stunning old buildings. Lance Milne welcomes you to taste the award-winning table wines Chateau Current winery owner and vigneron, Mildura specialises in, which includes chardonnay and vermentino in the whites, shiraz, cabernet sauvignon, merlot, petit verdot, carmenere and saperavi in the reds, as well as sparkling. Chateau Mildura employs a unique mix of both traditional and modern techniques in the winemaking process to achieve optimum results. Small batches of white and red grapes are carefully processed using controlled temperature fermentation and open-top fermenters. The reds are then hand plunged before oak maturation.

Since 2005, the wines have won many awards at various wine shows including, a class win at Melbourne's Federation Square Winery Regions of Victoria Showcase, several best of price bracket awards in Winestate Magazine's International Shiraz Challenges, and two silver medals in the annual le Concours des Vins du Victoria, produced by Melbourne's French Chamber of Commerce. Chateau Mildura also hosts many interesting events that are always advertised on the winery's website.

With so many attractions, a peaceful atmosphere and breathtaking views, Chateau Mildura is the perfect destination to visit on a nice weekend with friends or family.
⇐

2012 Chateau Mildura The Bogatyr Saperavi



Ageing in Russian and Hungarian oak barrels has created layers of chocolate and rich spice. Its aroma has hints of white pepper, bright red fruits, cranberries and a touch of lifted oak, heightened by menthol and toffee apples. The palate is mouth-flling, bright and bursting, with deep dark fruit, Satsuma plums, and an evolving char and cigar finish.
⇐

2012 Chateau Mildura The Troitsa CSP



This combination has produced a unique mulberry-coloured wine with a delicate tobacco leaf, violet, dark rose and savoury herb aroma. Its palate is on the full side of medium-bodied and exhibits morello cherry, plum and blackberry characters. It has good length, fine velvet tannins and a cigar finish.
⇐

2012 Chateau Mildura The Trobador Carménère



This wine has been matured in new European oak barrels. It has an aroma of rich sage, thyme, blackcurrant and dark chocolate. The palate displays intense dark forest berries, rich chocolate and blood orange, with a lingering finish of dry tobacco leaf and velvet tannins.
⇐

2008 Chateau Mildura Reserve Shiraz



This wine shows aromas of black cherry, plum and spice. The palate has strong, berry-fruit flavours, which combine with firm tannins and soft oak characters to provide good length and depth of flavour. This shiraz is ready to drink now and pairs perfectly with venison or roast beef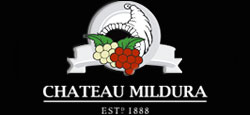 VISITOR'S GUIDE
Getting There
191 Belar Avenue,
Irymple
Contact Details
Tel: (03) 5024 5901
Mobile: 0428 291 563
Email: info@chateaumildura.com.au
Website: www.chateaumildura.com.au
Cellar Door
Open 10:00am– 4:00pm
Monday to Saturday, and Sunday by appointment only
Restaurant
No
Weddings & Functions
No
Accommodation
No

Additional Features
Museum tours detailing Australia and Mildura's wine history, self-guided tours, and guided tours at $5 per head (children enter for free)