Brimming with rich heritage and sprawling native landscapes, Best's Great Western whispers to a bygone era and celebrates the beauty of the historic wine region. This family-owned and -operated vineyard dates back to 1866, when it was founded by Henry Best. The Thomson family purchased Best's Great Western from Henry's son, Charles, in 1920 and it has remained in the family for five generations, currently operated under the careful guidance of Ben Thomson.
As one of Australia's 'best kept winery secrets', Best's Original Nursery Block houses some of the oldest and rarest vines in the world. Visitors can view the vineyard, or sample Best's Great Western's famous shiraz, cabernet and riesling, from the cellar door, which is housed in the original 1870s stables. Guests are invited to 'Pick a Platter' to accompany their wine, or peruse a selection of local produce and small goods to savour at home. Those curious about the estate's history, or simply seeking adventure, can take themselves on a self-guided tour of the historic underground cellar, which was hand dug in the 1870s.
Now producing around thirty different wines each year, Best's Great Western has rightfully received a plethora of accolades during its years, and was most recently dubbed the 'Best Value Winery' of 2021 by James Halliday.
⇐ 2021 Foudre Ferment Riesling
Given extended skin contact then wild fermented in two oak foudres, this wine exhibits the complexities of both barrel and spontaneous fermentation without
the overt oak flavour. It has a complex nose with honey, orange blossom, wet stone and a hint of lees. The palate is dry, textured and firm but supported by lemon pith-driven acidity, orange rind flavours and a long finish.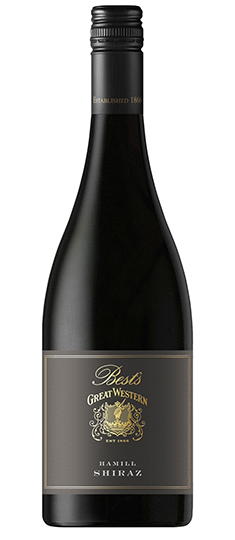 ⇐ 2019 Hamill Shiraz
The name Hamill has been handed down through four generations and now resides with Ben Hamill Thomson whose leadership lead to Best's Great Western purchasing Sugarloaf Creek Vineyard. This shiraz comes fully formed into the world, combining black and blueberry fruits, sweet spice, baked earth and wood smoke. It warms on the palate, with a depth of fruit intensity and light savouriness.
VISITOR'S GUIDE
Getting There
111 Bests Road,
Great Western
Contact Details
Tel: (03) 5356 2250
Email: info@bestswines.com
Website: www.bestswines.com
Cellar Door
Open Monday to Saturday from 10:00am to 5:00pm
and Sunday from 11:00am to 4:00pm
Groups of 10 or more must book tastings in advance,
fees apply
Restaurant
No restaurant on site
Pick a platter; guests can select from a range of small
goods and cheeses to accompany their wine. Available
through the cellar door
Weddings & Functions
Maximum of 50 seated inside cellar door and up to 150
guests outdoors – booking and fees apply for large groups
and own catering is required
Accommodation
For a detailed list of nearby lodgings head to the blog
on Best's Great Western's website
Additional Features
A self-guided cellar walk through the 1870s underground
cellars, guests enter free of charge