Bendigo's Buried Treasure
With a golden past and undoubtedly a golden future, Bendigo has long been renowned as a gold rush town; home to the Central Deborah Gold Mine and playing host to one of Australia's largest 19th century gold-mining economies. Perhaps most aptly, the very same soil that once bestowed wealth through gold, is today helping to produce some of the state's most award-winning wines. In conversation with Wes Vine, president of the Bendigo Winegrowers Association, Bethany Hayes unpacks just what gives Bendigo its iconic versatile edge, and why its future as a wine region is sparkling multi-carat bright.
THE ROOTS OF SUCCESS
Having planted his first vineyard as a hobby – more than forty-five years ago, alongside his wife Pam – Vine's passion has cultivated into a thriving family business, having undertaken its first vintage back in 1980. Almost half a century on, and Vine's team is dedicated to showcasing the most iconic wines from Bendigo's gold-bearing soils. "The Bendigo Winegrowers Association is a group of more than twenty wineries working together to promote the region and introduce customers to the rich, ripe reds and elegant whites produced in the region," he explains.
Positioned completely inland within the zone of
Central Victoria, Vine explains that the Bendigo
wine region encompasses a Mediterranean climate; think warm, dry summers, with mild wet winters. As such, the region's climate has a direct flow-on effect to its soil, and therefore, the wine it produces. Vine notes that the majority of Bendigo's soils are described as "sandy gravel, volcanic basalt or clay loams, mostly over clay subsoils", and is "perfectly suited for the shiraz and cabernet that the region is renowned for". With the knowledge of its Mediterranean climate, the region is also making way and carving an "exciting reputation for Mediterranean-style wines such as sangiovese, nebbiolo and monastrell".
grape-growing through history 
Dubbed "nearly as old as Bendigo itself", the tradition of wine grape-growing dates back to the 1800's. Encompassing an extensive knowledge of history, Vine details that once the easily accessible gold ran out in Bendigo, viticulture was something the general labour force "who [already] knew hard work and the area" could easily turn to. "But the threat of phylloxera in late 1893, at the Emu Creek Vineyard of Frederick Grosse, marked the beginning of the demise of the original wine industry in the Bendigo district," he further explains.
And Bendigo's return to glory? "The resurgence of the wine industry in Bendigo is traced back to the planting of Connor Park, Balgownie Estate and Byronsvale Vineyards in the late 1960s," Vine explains – with the results of this resurgence speaking volumes today. "Bendigo's new wave of winemakers are winning attention with their elegant reds and stylish whites."
When thinking of the Bendigo wine region, chances are a classic shiraz, with its full-bodied palate, comes to mind, especially given that plantings of red grape varieties predominate over white in this region. "The cool climate classic Bendigo shiraz is vibrant and lifted, and is quite distinguishable from other shiraz-producing regions," Vine notes. While shiraz is always a crowd favourite, Bendigo also produces a range of other elegant, long-lived varieties. "The winemakers are introducing new styles and flavours which are exciting and different, while still focusing on artisan, handcrafted methods to winemaking." If you're visiting the region's cooler
areas, "the classic chardonnay and pinot noir varieties produce exemplary sparkling and table
wine", meanwhile, riesling and sauvignon blanc
come into frame – and get poured into glass – as
the temperature increases.
THE ERA OF EXPERIMENTATION
Encompassing more than twenty impressive wineries throughout the region, Vine notes that
in Bendigo, there is "a story around every bend".
Dubbed an era of "real experimentation, as horizons expand and options grow exponentially", so too does the spectrum of cuisine that people are willing to try. "I think the influence of Mediterranean wines we're seeing in Australia will only continue. We've seen an explosion of new wine styles in the Bendigo wine region, such as monastrell, sangiovese, tempranillo, rousanne, mousanne and fiano." If, much like many other wine-drinkers and Bendigo locals, your tastebuds favour a red wine
such as shiraz, you'd be in luck. "Some of the local winemakers have added to the staple shiraz with exotic drops like the Spanish tempranillo. Think aromas of chocolate, raspberry and leafy tobacco, with a palate of earthy red berry and cherry," Vine illustrates.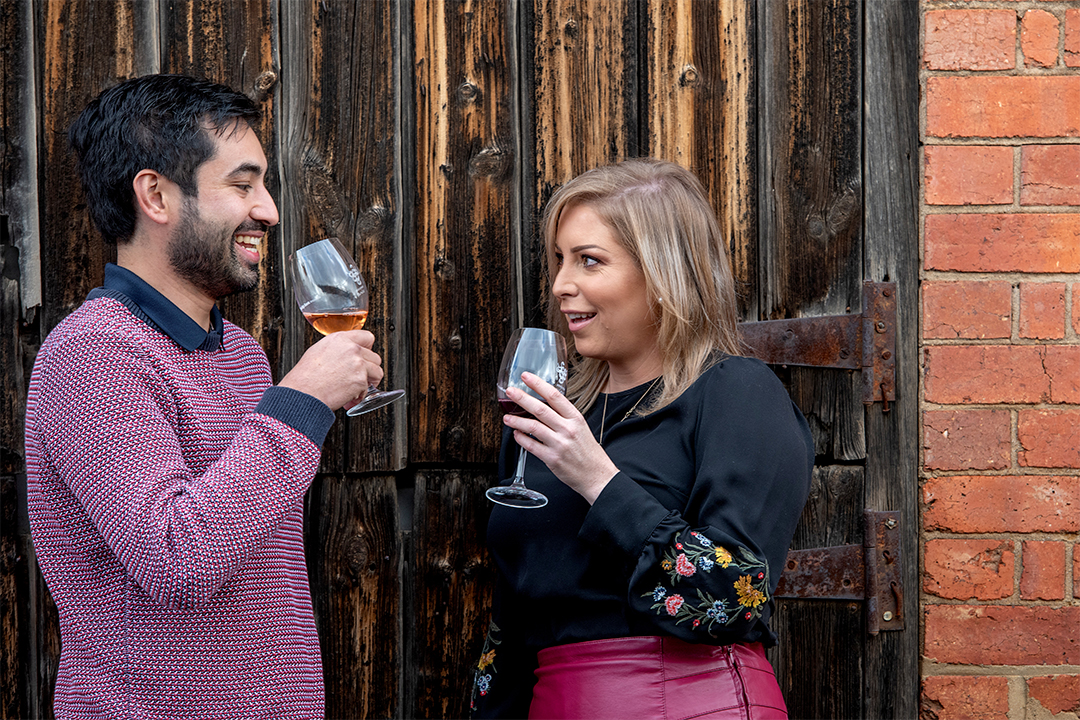 Aside from its impressive wineries and hub of
history, Bendigo itself is also home to a range of
impeccable eateries and boutiques – to satisfy
one's taste for culinary and clothing delights. While the scent of good food trails the city, including the likes of Wine Bank On View, so does the city's art precinct. "The city's impressive cultural line up begins with the Bendigo Art Gallery with exhibitions that regularly attract national and international acclaim," he explains. If you fancy yourself a wine tasting trip, Vine suggests trying the region's light rosé, which "in recent releases from many local wineries is gaining fast popularity" both locally and interstate.
Today, the majority of the region's modern wineries are still run by the very same families who founded them, showing incredible longevity and the Bendigo Wine Luncheon Rosalind Park
passion these families have for their craft. "Visitors fondly refer to it as 'the winemaker's region' as it is common to travel along a meandering country road to a cellar door, and be greeted by the artisans tending vines – and are ready to share a story or two," Vine describes. "The grapes of the Bendigo area have from the earliest days been wine, not table, grapes, and to this day they are only minimally irrigated and ultimately handcrafted into premium wines."
While once bestowing blessings through gold,
Bendigo's blessings now come through the form
of incredibly versatile grapes, impeccable wines,
its rich history and bucket-list destination wineries. Bolstering every ounce of potential that this stellar region encompasses, it seems that the soil that lies below Bendigo's surface offers more buried treasure than meets the eye.
Photos courtesy of Bendigo Winegrowers Association